Dental Implants – Norton Shores, MI
The Future of Replacing Teeth
Dental implants truly stand out from other tooth replacement options. Right now, they're the only way to replace both the crown that is normally visible above the gums and the roots that are hidden beneath. Are you wondering if getting dental implants from our Norton Shores, MI dentist is the best decision for your smile? Set up an appointment at Laketown Family Dental today, so we can help you figure it out.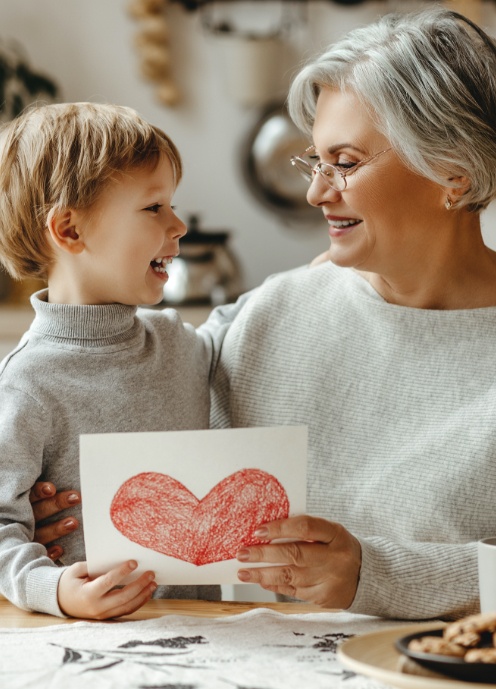 Why Choose Laketown Family Dental for Dental Implants?
Partnered with Experienced Dental Implant Experts
Long-Lasting, Lifelike Dental Restorations
Fun, Friendly Dentists and Dental Team
What are Dental Implants?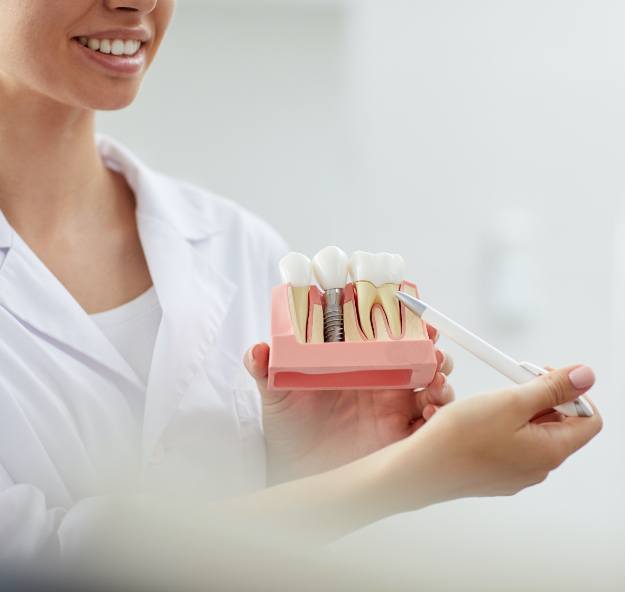 The term "dental implant" most commonly refers to a screwlike post made out of titanium that is placed directly into the jawbone. A process called osseointegration allows implants to fuse with the bone around them, enabling them to perform all the same functions as natural tooth roots. When an appropriate number of implants are combined with the right kind of dental restorations, they can be used to replace any number of missing teeth.
The 4 Step Dental Implant Process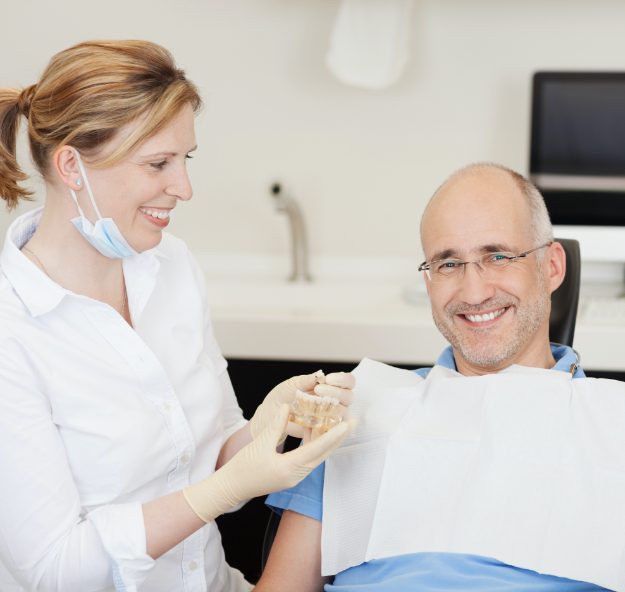 Consultation: This is the stage where we consider your candidacy for dental implants and schedule preliminary bone grafts and other treatments as needed.
Placement: We will refer you to one of our partners to have dental implant surgery performed. With minimal discomfort, the posts are placed in the jawbone and covered by the gums.
Osseointegration and Abutment: It takes a few months for osseointegration to take place, and afterward, the abutments will be attached to the implants.
Final Restoration: You will come back to Laketown Family Dental so that we can place a crown, bridge, or denture that has been designed just for you.
The Benefits of Dental Implants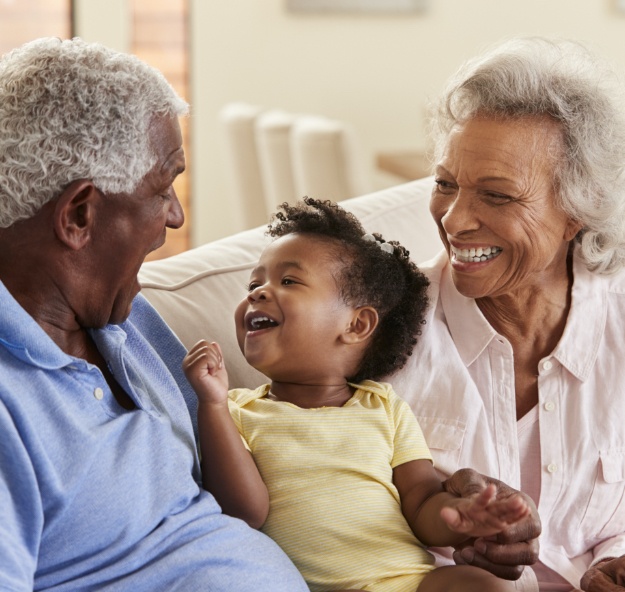 Perhaps the biggest benefit of dental implants is the effect they have on the jawbone. A missing tooth causes the underlying bone to shrink because the body is resorbing nutrients from the area; dental implants can stimulate the jawbone and prevent this shrinking. Implants also look, feel, and perform like natural teeth, so nobody but you and your dentist will be able to tell the difference. The durability of dental implants allows them to last for 30 years or even longer.
Who Dental Implants Can Help?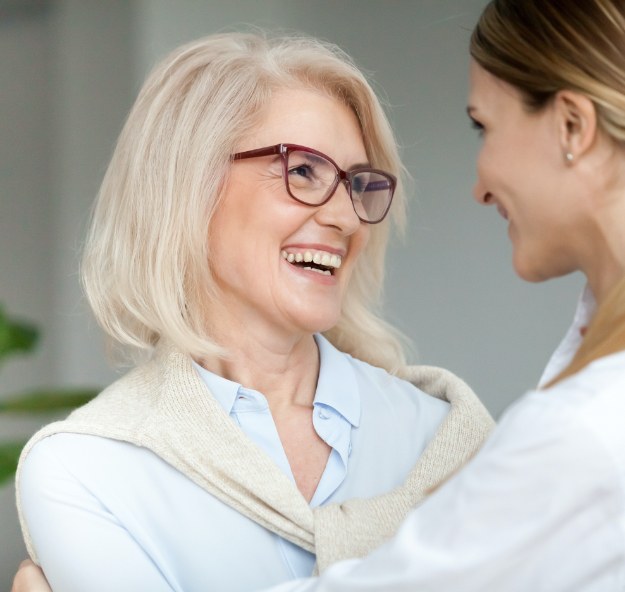 The answer is "almost anybody!" No matter how many teeth are missing, dental implants can be used to replace them. The ideal candidate will already have a strong jawbone and a healthy mouth, but preliminary treatments can help address potential complications before the surgery is performed. The type of implant procedure you need will be determined after an examination that takes into account many factors – including the number of teeth that are missing.
Missing Single Tooth
When just one tooth is missing, an implant post can be carefully placed in the spot where it was originally located. After osseointegration, a crown can be attached. Said crown will be made out of a beautiful ceramic that has been shaded so that it matches your other teeth perfectly.
Missing Multiple Teeth
A traditional dental bridge rests on the teeth, but it can also be attached to a pair of implants instead. This is an efficient way to replace three or more teeth in a row. There are also partial dentures that can be attached to dental implants to fill in multiple gaps in the mouth.
Missing All Teeth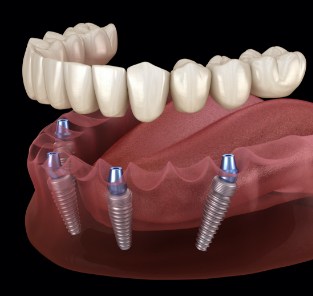 Removable dentures come with their fair share of inconveniences. Implant dentures will stay in place at all times, and they offer superior biting strength. They are also much easier to take care of since they can be brushed normally. Most of the time, dentures only require about 4 to 6 implants.
Learn More About Implant Dentures
Understanding the Cost of Dental Implants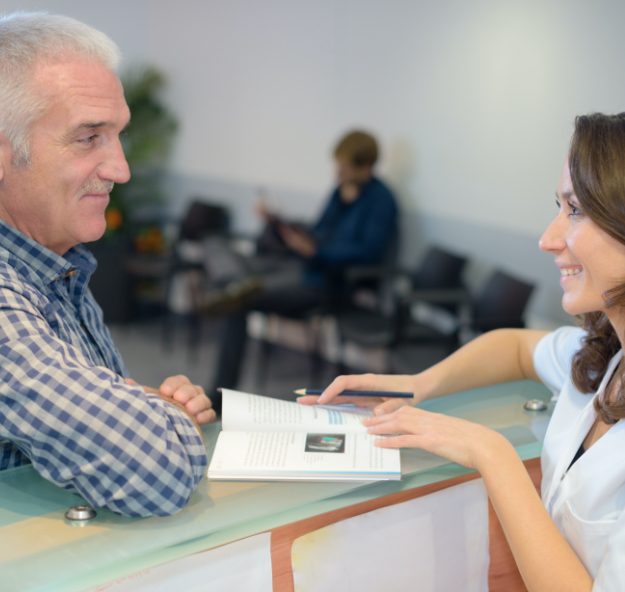 If you're looking to save as much money as possible when replacing your teeth, dental implants may actually be your best financial option over the long term. This is largely due to their lifespan; some dental implants never have to be replaced, while traditional dentures and crowns have a lifespan that's normally around 5 to 10 years.