Dental Implants – Norton Shores, MI
The Future of Replacing Teeth
Dental implants truly stand out from other tooth replacement options. Right now, they're the only way to replace both the crown that is normally visible above the gums and the roots that are hidden beneath. Are you wondering if getting dental implants from our Norton Shores, MI dentist is the best decision for your smile? Set up an appointment at Laketown Family Dental today, so we can help you figure it out.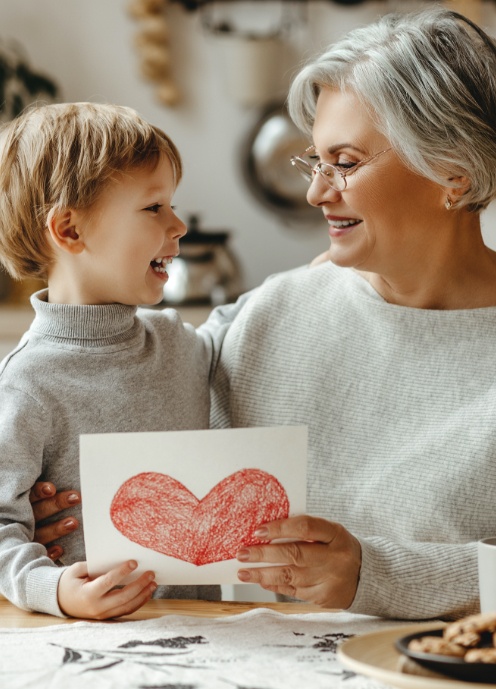 Why Choose Laketown Family Dental for Dental Implants?
Partnered with Experienced Dental Implant Experts
Long-Lasting, Lifelike Dental Restorations
Fun, Friendly Dentists and Dental Team
What are Dental Implants?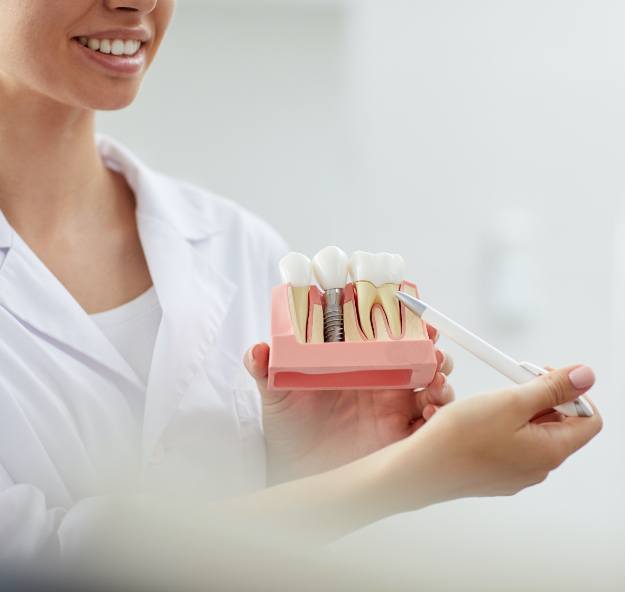 The term "dental implant" most commonly refers to a screwlike post made out of titanium that is placed directly into the jawbone. A process called osseointegration allows implants to fuse with the bone around them, enabling them to perform all the same functions as natural tooth roots. When an appropriate number of implants are combined with the right kind of dental restorations, they can be used to replace any number of missing teeth.
The 4 Step Dental Implants Process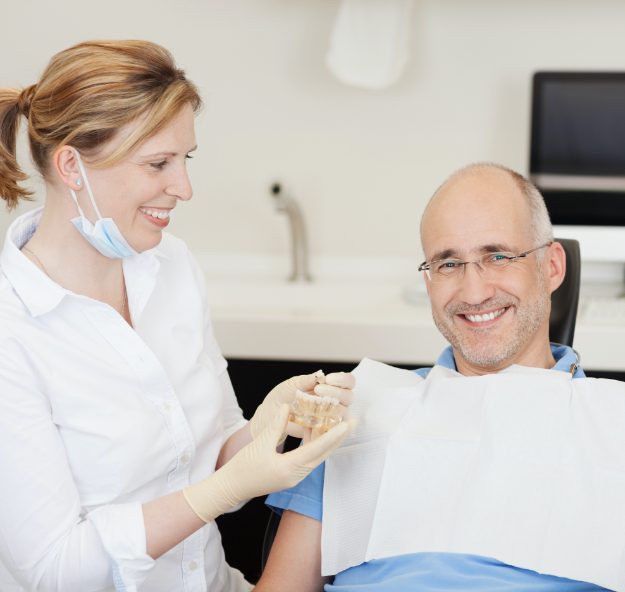 Unlike dentures and dental bridges, getting dental implants requires a multi-step process that will take several months. This may seem like a long time, but when you consider the long-term benefits, you will see why they are worth the wait. While every treatment is unique, here are the four main steps that you can expect during the process of restoring your smile with dental implants.
Initial Dental Implant Consultation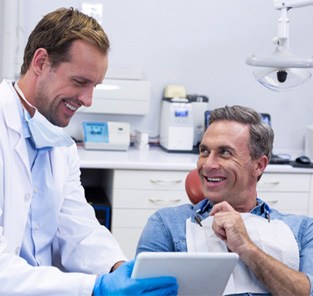 The first step when it comes to restoring your smile is to schedule a consultation with us. At this time, we will take a look at your smile and surrounding facial structures. This will help us to determine whether dental implants are a good option for you and where and how they should be placed in the mouth. Some patients need to have preliminary procedures completed before getting dental implants, like bone grafting, gum disease treatment, and tooth extractions. After this, we can move forward to planning the rest of the dental implant treatment. At your consultation, we are also happy to walk you through the process so you know exactly what you can expect – including the timeline and the cost.
Dental Implant Surgery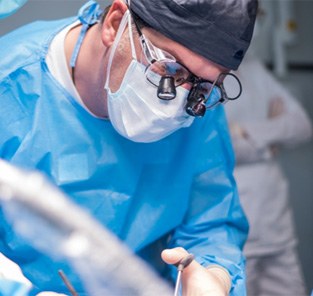 For the dental implant surgery itself, we partner with a local dental implant expert to ensure that your procedure is as successful as possible. At this time, your mouth will be numbed with a local anesthetic, and an incision is made in the gums. The implant posts are placed at precise locations and angles, the gums will be closed, and protective caps are placed over the implant posts to keep them safe during the healing process.
Dental Implant Osseointegration & Abutment Placement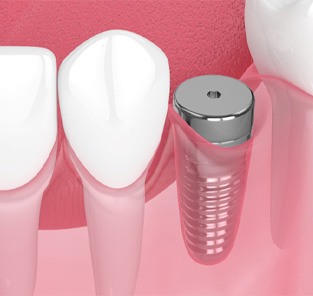 Over the next three to six months, the "osseointegration" process will take place. This is when the implants fuse with the bone and tissue to create the sturdy foundation that your replacement teeth need to stay in place. Once this process is completed, the metal abutment can be placed on top of the implant.
Delivery of Dental Implant Restorations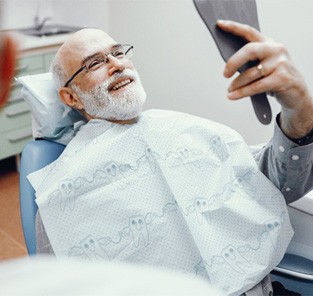 A few weeks after you have your abutment placed, your restorations should be ready. At this point, you can return to the office where you will receive your crown, bridge, or denture (depending on the number of teeth that you are missing). During this time, we will also take a look to ensure that your bite is comfortable. Lastly, you can enjoy your newly completed smile!
Benefits of Dental Implants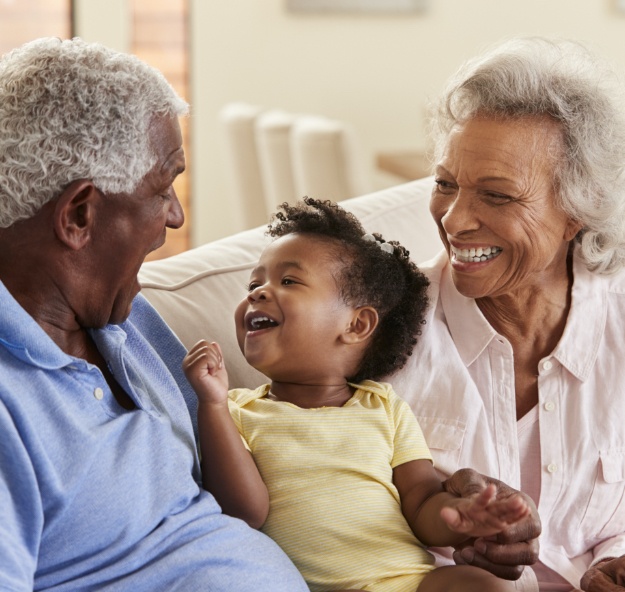 It would be amazing if our teeth lasted a lifetime, but this isn't the case for everybody. Some people end up losing one or more teeth over time. This can happen thanks to decay, injuries, gum disease, and many other causes. The good news is that dental implants are available to restore the roots and crowns of the teeth. Because of this, there are all sorts of unique benefits that you can experience. Read on to learn more about the pros of choosing dental implants to replace your missing teeth.
Day-to-Day Benefits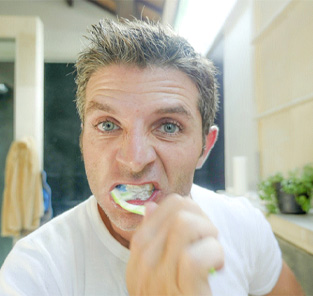 Dental implants feel just like natural teeth do once they have completely healed, so you shouldn't notice them too much during the day. Ultimately, you should be able to enjoy all of the things that you did before losing your teeth. Here are some of the benefits that you can experience every day:
Restored Bite Force: Your bite force can be restored by 80% or more. This is much more than you can expect from traditional tooth replacement options, like dental bridges and dentures.
Easy to Maintain: You take care of dental implants the same way that you care for natural teeth. Brush, floss, rinse, and see your dentist for regular checkups.
Increased Confidence: You don't need to worry about visible gaps in your smile or ill-fitting restorations.
Health Benefits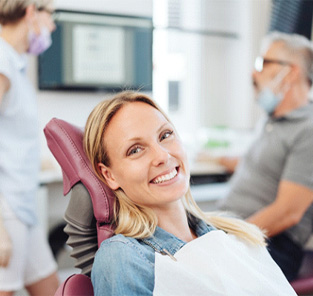 In addition to the noticeable benefits that you will experience daily, your health will also be positively influenced by your new restorations. Here's what you can look forward to:
Improved Dental Health: This means a lower risk of cavities, gum disease, infection, and additional tooth loss. None of your natural teeth need to be altered for this restoration either.
Better Overall Health: Having excellent oral health has a positive influence on your general health. It can even lower your risk of serious medical problems, like diabetes and heart disease.
Prevents Bone Loss: When you're missing teeth, jawbone deterioration will follow. Dental implants stimulate the jawbone just like natural tooth roots to keep it strong.
Long-Term Benefits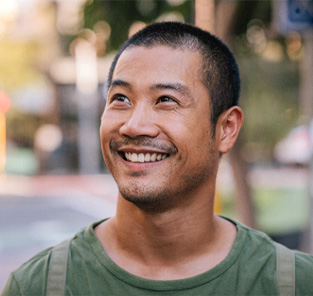 By choosing dental implants, you are making a long-term investment in your smile. Here are some of the benefits that you can experience many years down the road:
High Success Rate: Dental implants have a success rate of over 95%! It's highly unlikely that you will experience an implant failure.
Permanent: Dental implant can last upwards of three decades with proper maintenance.
Save Money: You no longer need to worry about stocking up on adhesives or soaking solutions. There won't be a need for frequent repairs or replacements either. Dental implants also reduce your risk of many oral health issues, so you are less likely to need costly treatments in the future.
Who Dental Implants Can Help?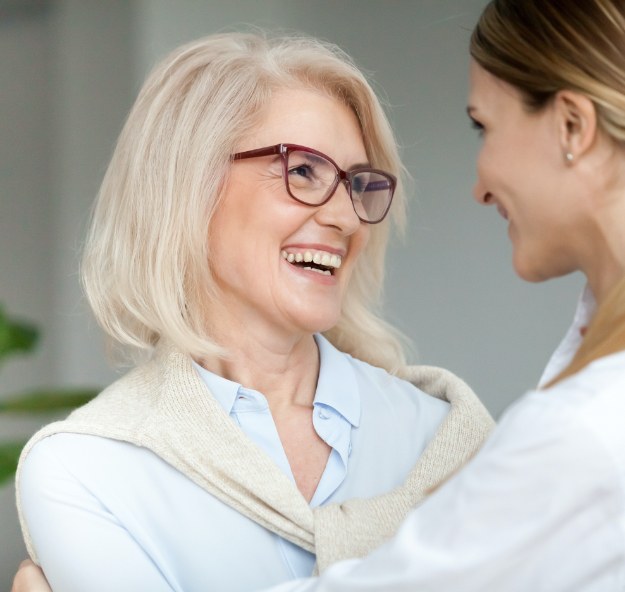 The answer is "almost anybody!" No matter how many teeth are missing, dental implants can be used to replace them. The ideal candidate will already have a strong jawbone and a healthy mouth, but preliminary treatments can help address potential complications before the surgery is performed. The type of implant procedure you need will be determined after an examination that takes into account many factors – including the number of teeth that are missing.
Missing Single Tooth
When just one tooth is missing, an implant post can be carefully placed in the spot where it was originally located. After osseointegration, a crown can be attached. Said crown will be made out of a beautiful ceramic that has been shaded so that it matches your other teeth perfectly.
Missing Multiple Teeth
A traditional dental bridge rests on the teeth, but it can also be attached to a pair of implants instead. This is an efficient way to replace three or more teeth in a row. There are also partial dentures that can be attached to dental implants to fill in multiple gaps in the mouth.
Missing All Teeth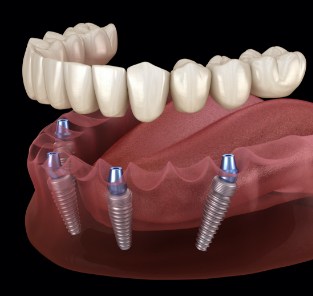 Removable dentures come with their fair share of inconveniences. Implant dentures will stay in place at all times, and they offer superior biting strength. They are also much easier to take care of since they can be brushed normally. Most of the time, dentures only require about 4 to 6 implants.
Learn More About Implant Dentures
Understanding the Cost of Dental Implants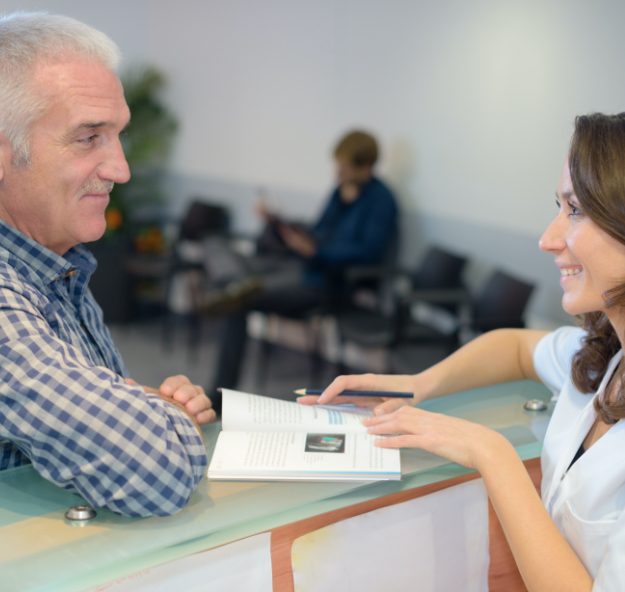 If you're looking to save as much money as possible when replacing your teeth, dental implants may actually be your best financial option over the long term. This is largely due to their lifespan; some dental implants never have to be replaced, while traditional dentures and crowns have a lifespan that's normally around 5 to 10 years.
Maintaining & Caring for Your Dental Implants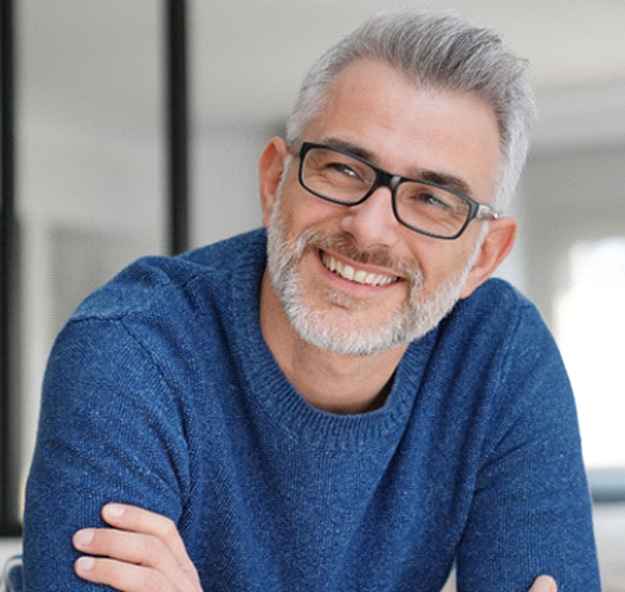 Dental implants have become incredibly popular in recent years, and it's easy to see why! Not only do they produce natural-looking results, but they have the potential to keep your smile complete for a lifetime. Of course, that's only the case if you take proper care of them. Keeping your newly rebuilt grin safe from damage and infection will go a long way. Below, you'll find a few simple precautions and healthy habits that'll help your dental implants last years to come!
Make Oral Hygiene a Priority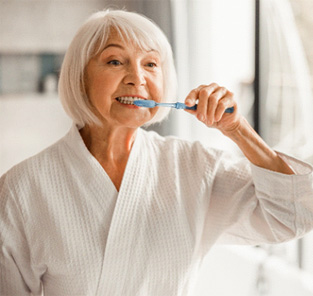 You may already know that dental implants can't get cavities. However, that doesn't mean you can slack off on oral hygiene. Brushing your teeth twice a day, flossing daily, and rinsing every day with an ADA-approved mouthwash are essential for keeping your oral health in tip-top shape. These practices will prevent issues like decay and gum disease, which can both cause your implants to fail.
Eat a Healthy Diet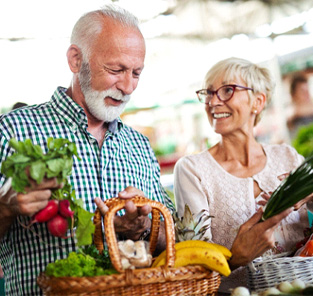 By getting dental implants in Norton Shores, you'll regain the ability to eat almost anything you want! To keep your smile safe, you should still be mindful of your diet. Overindulging in hard, sticky, or sugary foods can be problematic for your smile. Instead, you should eat nutritious foods like fruits, vegetables, lean proteins, dairy products, and whole grains. Consuming foods particularly high in calcium and vitamin C will keep your jawbone strong and gum tissue healthy.
Break Bad Habits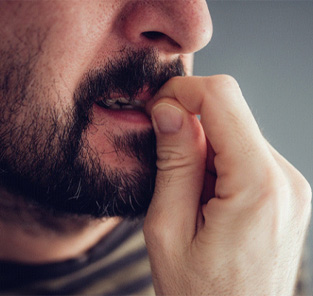 Smoking, biting fingernails, chewing on leftover ice, and using your teeth as tools may seem like mindless habits – but they can do far more damage than you think. They can cause your dental implants to break or fail, possibly leading to missing teeth once again. It's a good idea to kick these habits to the curb as soon as you can. If you need help quitting smoking, don't hesitate to let us know. We'll provide you with the resources, support, and guidance you need to make the feat as easy as can be.
Protect Your Dental Implants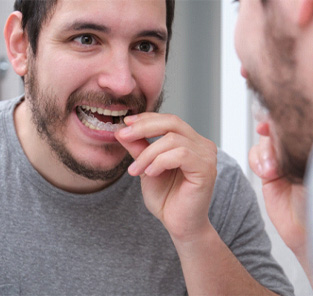 Just because dental implants are strong doesn't mean they're indestructible. If you regularly play sports, you should ask your dentist about a custom-made mouthguard to keep your smile safe from any impact should you sustain a blow to the face. If you grind your teeth at night, you can get a nightguard to protect your implants from additional wear and tear.
Schedule Regular Dental Checkups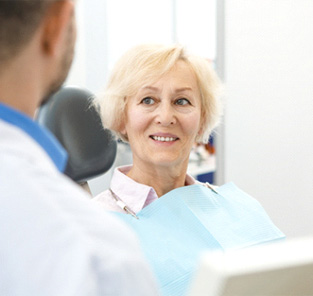 Everyone needs to visit their dentist every six months for a checkup and cleaning, especially patients with dental implants. These routine appointments are necessary for us to monitor your oral health and spot any issues before they turn into complications. With early intervention, our team can ensure your implants are problem-free.
Dental Implant Frequently Asked Questions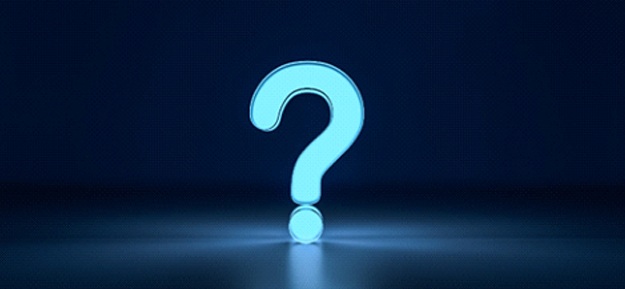 Even if you've read over this entire page, it's perfectly understandable if you still have questions about dental implants. We're ready to share any information you need so you can decide whether this treatment would be right for you. We've answered some popular questions below, but if there is anything else you want to ask, be sure to reach out to our team.
How long does it take to get dental implants?
The timeline for dental implants is different for each patient based on a number of factors, including how many teeth they are having replaced and the condition of the jawbone at the start of treatment. Simpler cases (as in one tooth) can take as little as three months in some cases, but four to six is more common. If a person is getting a full implant denture, this might take almost a year, especially if they need other procedures like extractions or a bone graft first. We'll go over all of this at your initial consultation so you'll have a good idea of what to expect.
Does dental implant surgery hurt?
Thankfully, having dental implants placed is NOT some painful procedure you'll have to endure to get your smile back. Our partnered experts know how to perform the procedure as conservatively as possible, plus they use techniques like anesthetic and even sedation so the patient doesn't feel anything and remains calm. You might experience some pressure in your mouth during the process, but it won't be anything that resembles pain.
Will I need to take time off after dental implant surgery?
We typically recommend that a patient take one to two days off (as in spend that time relaxing and avoiding physical activity) after dental implant surgery. This ensures that the healing process starts well and allows a clot to form around the surgery site. The patient can normally return to work after this period and engage in light exercise until about a week later when they can resume their normal routine.
Can I be too old to get dental implants?
Fortunately, there is NO upper age limit when it comes to dental implants! All that's required to place implants is enough strong bone to hold the posts, and the patient needs to be healthy enough to undergo oral surgery. It's also important that they don't have any other ongoing dental problems (particularly gum disease, which can interfere with healing after surgery). If any of these requirements are a concern, we can help a patient get what they need so they're able to receive implants and enjoy a smooth journey from start to finish.