Veneers – Norton Shores, MI
Get the Smile You've Always Dreamed Of
While watching a red-carpet event, you probably marvel at the perfect smile your favorite celebrities have. Do you wish your pearly whites were as flawless as theirs? At Laketown Family Dental, we offer veneers in Norton Shores to give you a grin that'll make you feel like a star! Not only can they mask multiple imperfections at once, but the entire process can be completed in as little as two appointments. If you're ready for a smile makeover and want to find out if veneers are right for you, continue reading or schedule a consultation with our team today!
Why Choose Laketown Family Dental for Veneers?
High-Quality and Long-Lasting Results
Advanced Materials and Technology
CareCredit Financing Available
What are Dental Veneers?
Veneers are ultra-thin shells of dental-grade porcelain that are cemented to the front surfaces of teeth, masking any imperfection from view. They're a minimally invasive treatment option that can correct multiple flaws all at once (i.e., staining, discoloration, gaps, cracks, chips, and even misalignment). Since the material is stain-resistant, your new smile is guaranteed to stay bright with proper maintenance. Veneers are the ideal solution for patients wanting a fast and effective way to get the smile they've always wanted.
The Process of Getting Veneers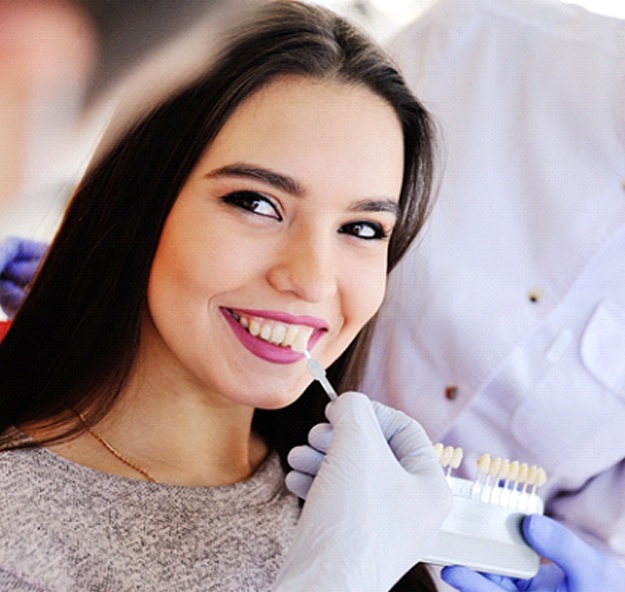 First and foremost, you'll have a consultation with our team at Lakeview Family Dental to ensure this option is right for you. We'll conduct an oral examination, discuss your goals, and find out which imperfections you'd like to address. During this appointment, we'll explain what the process entails so you know exactly what to expect.
After the initial consultation, you'll begin the first phase of your treatment plan. We'll clean your teeth, and shave off a thin layer of enamel to ensure the veneers fit properly. Then, we'll take impressions of your prepared teeth and send them to a dental laboratory so they can design veneers that fit your exact needs. It may take the lab a couple of weeks to craft your custom-made veneers. In the meantime, you'll receive temporary veneers to protect your prepared teeth.
Once we receive your permanent veneers, you'll return to the office, and we'll permanently cement them into place. We'll make any final alterations to ensure they're exactly what you envisioned. You'll be ready to show off your Hollywood smile as soon as they're in place!
The Benefits of Veneers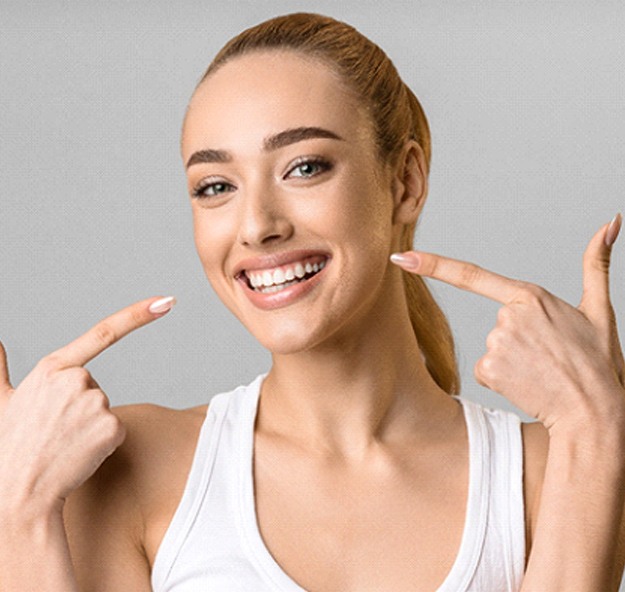 Veneers in Norton Shores are one of the most popular cosmetic treatment options – and for good reason. Patients can expect to reap multiple benefits, including:
Improved color, size, and shape of your teeth
Minimally invasive procedure
Natural-looking and long-lasting results
Durable materials
New smile in as little as two appointments
Veneer FAQs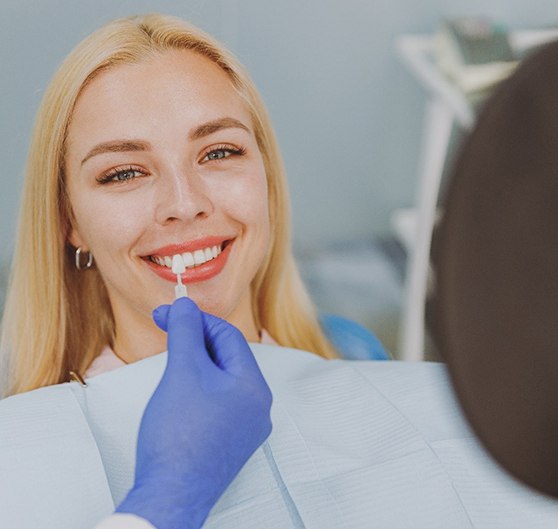 If you're interested in getting veneers in Norton Shores, then reading through the above information can provide you with a tremendous amount of insight into the process. Of course, that doesn't mean it isn't normal to still have a few questions on your mind! You're always welcome to reach out to our team directly, but we know that some patients prefer to do their research online first. For this reason, we've responded to some of the most frequently asked questions right here.
Are Veneers Permanent?
While veneers are not technically permanent, they do make lasting changes to your teeth. As such, they are considered to be irreversible. Don't let that scare you though – once you see your bright, balanced, beautiful new smile, you won't want to go back! Plus, our exceptional Norton Shores cosmetic dentist will go the extra mile to create veneers that perfectly suit your face shape, skin tone, personality, and existing smile. With proper care, the results can last for 15+ years too.
Is There Anything I Can't Eat with Veneers?
With your temporary veneers, you'll have to be mindful of your diet. Chewing hard, and sticky foods (i.e., caramel, crunchy apples, uncooked vegetables) are not recommended since they can tug on or break your temporary set. Once your permanent veneers are in place, you'll be free to enjoy a much more varied diet. Of course, you'll still want to be mindful of what you eat. After all, the last thing you want is for a big bite into a pretzel or peanut brittle to damage your new and improved smile. Typically, patients are advised to follow a diet that is high in nutrient-dense foods and low in alcohol (since it can weaken the bonding material).
Will I Still Be Able to Drink Coffee with Veneers?
Do you love lattes, cold brews, iced coffees, and the like? Then you may be wondering if you can still indulge with veneers. In short, the answer is yes. Unlike your natural teeth, veneers are crafted from stain-resistant materials, like porcelain. So, dark-colored beverages, like coffee, are significantly less likely to leave your smile looking yellow. With that being said, patients are still encouraged to opt for water as often as possible and to use a straw when they do drink their coffee.
Do Veneers Feel Like Real Teeth?
They do! There are a few reasons for this. First, porcelain is incredibly smooth and won't irritate your lips, gums, and the other soft tissue in your mouth. Furthermore, they are custom-made for each patient. As a result, they won't feel obtrusive or awkward in any way. Their lifelike appearance and durable nature will ensure that they both look and feel extremely natural.
How are Veneers Different Than Crowns?
Veneers and dental crowns are both services that can enhance the appearance of your smile, but they are very different. While veneers are thin shells that cover the front-facing portion of the tooth, dental crowns are caps that cover it entirely. Another distinct difference is that dental crowns can withstand the pressure from chewing, making them a better fit for the back molars. To learn more about the differences between veneers and dental crowns, get in touch with our team! We'll help you determine which one is best for you.